Courses Taught:
Math/Science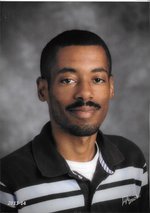 My name is Chris Saffold. I am originally from Dothan, Alabama. I am currently residing in Troy, Alabama. I enjoy playing basketball, racquetball, and tennis. One of my many hobbies includes collecting autographed pictures from celebrities. When I am not spending time with family and friends, I am busy educating future policemen, lawyers, doctors, teachers, presidents, etc.
Education
---
(1985-1992) Ashford Elementary School
(1992-1998) Ashford High School (High School Advanced Diploma)
(1998-2001) Troy University (Bachelors Degree in Elementary & Collaborative Education)
(2002-2004) Troy University (Masters Degree in Elementary Education)
Experience
---
2007 PCES Teacher of the Year

2017 PCES Teacher of the Year

Jacksonville State University Teacher Hall of Fame Statewide Elementary Finalist- 2017

(Science, Writing, & Math)

(Writing, Language Arts, & Math)
*I was also a substitute teacher for 2 years while attending Troy University. I was a substitute teacher for the following schools: Troy Elementary School, Goshen Elementary School, Goshen High School, Pike County Elementary School, Pike County High School, Charles Henderson Middle School, and Charles Henderson High School. During that time I worked in all grade levels, all subject areas, and I also worked in special education classrooms.
*In 2001, I did my student teaching at Pike County Elementary School with the guidance of two really amazing teachers. I was fortunate to do my internship under Mrs. Debbie Kelley (1st grade teacher) and Mrs. Ashley Johnson (4th grade teacher at that time). I will always be grateful to them for sharing their love of teaching with me.
*I volunteered at Pike County High School where I helped students prepare for the Alabama High School Graduation Exam.
7:30 - 7:55 Health / Character Education

8:00 - 8:30 Science

8:30 - 9:30 Math - Tier I

9:30 - 10:00 Math Intervention - Tier II

10:00 - 10:30 Math Intervention - Tier III

10:30 - 10:35 Transition

10:35 - 10:55 DEAR

10:55 - 11:50 P.E. / Special Area / Planning Time

11:55 - 12:10 Math - Tier I

12:15 - 12:40 Lunch

12:40 – 12:50 Restroom Break

12:50 - 1:35 Math - Tier I (continued)

1:35 - 2:05 Math Intervention - Tier II

2:05 - 2:35 Math Intervention - Tier III

2:35 - 3:05 Science

3:05 - 3:10 Recess / Pack / Dismiss