Take In Time: 7:10am

Dismissal Time: 3:10pm

Main Telephone Line: (334) 735-2683

The mission of Pike County Elementary School is for all school decisions to be based on individual student learning needs. We strive to achieve 100% literacy and provide a safe, child-centered learning environment.
The purpose of Pike County Elementary School is to provide a comprehensive and quality education with high expectations in a safe and nurturing environment. Our vision is for each child to experience success. By following through with our mission of basing all school decisions on individual student learning needs, we strive to achieve 100% literacy and provide a safe, child-centered learning environment.
The faculty and staff of Pike County Elementary School believe the following to be true:
All children can learn when given a variety of instructional approaches to support their learning.

Students are valued individuals with unique physical, social, emotional, and intellectual needs.

A student's self esteem is enhanced by positive relationships between students and staff.

A variety of assessments should be used to meet each individual learning style and foster academic growth.

Students learn to make appropriate decisions given a supportive and challenging learning environment.

Students learn best when they are actively engaged in the learning process.

Students need to use their knowledge of basic skills to solve problems and produce quality work.
We, the faculty of PCES, are committed to continuous improvement to enable students to become confident, self-directed, lifelong learners.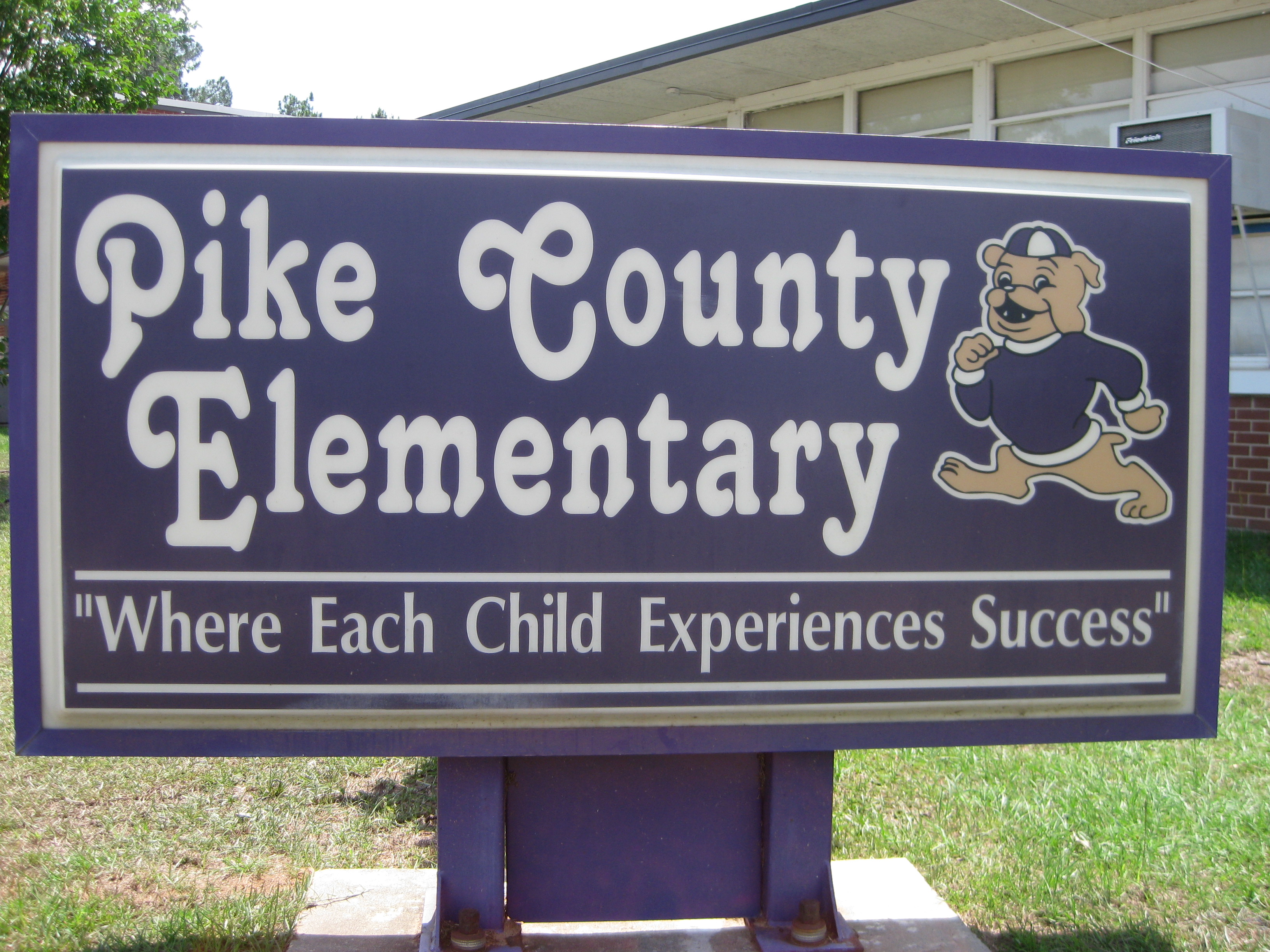 Pike County Elementary School is one of three Elementary Schools in the Pike County School System. Pike County Elementary is located in Brundidge, Alabama and serves approximately 525 students in kindergarten through sixth grade.
Pike County Elementary School had its beginning as Rosenwald Elementary School with four classrooms and four teachers. As time passed, the County Board of Education assumed the financial and administrative responsibilities for the school. The original structure was destroyed by fire, but was replaced with a five room structure which became known as Brundidge Junior High School. Several years later, the second building was also destroyed by fire.
In 1934, while J. L. Odom was principal, a six room building was erected. The school then became known as the Pike County Training School. The staff was comprised of eight teachers and the student population reached 300. With the increased enrollment, it became necessary to initiate double sessions of school.
M.E. Graham was principal in 1954 when the Board of Education recognized the need for expansion and purchased fifteen acres of land near the Training School campus. A modernized, fire-proof building was constructed. The new facility housed the elementary department and the old plant continued to house the junior and senior high school departments. The enrollment had climbed to 600 with 21 teachers.
Along with the period of consolidation came swift transition. White Water Junior High and Tarentum Elementary Schools consolidated with Pike County Training School. In order to accommodate the students from the newly combined schools, additional buses were put into service. Twenty-five teachers served the school which now had an enrollment of 750. With this kind of student-teacher ratio, all departments were challenged with an overcrowded situation. Realizing this kind of condition existed, in 1961 the School Board decided to build a new high school on the same campus as the elementary school. The new school was named Hillcrest High School and housed grades nine through twelve.
On January 3, 1962, the Josie Junior High School consolidated with Hillcrest High creating a combined enrollment of 900, an all time high for the campus. The staff of the teachers increased to 30. M.E. Graham remained principal through the many years of transition and retired in 1969. While E.K. Jones was principal in 1975, the school's name was changed to Pike County Elementary School and was reconfigured to house grades kindergarten through sixth which is its current configuration. The school continues to prosper and progress.