Courses Taught: Kindergarten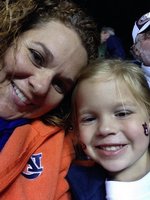 My name is Beverly Chance. I am originally from Jackson, Alabama. I came to Troy to attend Troy University and liked it so well I decided to stay! I have been living in Troy now for eighteen years. I am married to Jonathan Chance who is a band director at Pike County High School. We have two daughters -- Annalee is 11 and Brylee is 8, a dog Daisy, three cats, & six chickens. We stay pretty busy between ball games and other school activities but when I do have free time I enjoy reading. I thoroughly enjoy teaching Kindergarten.
I attended Troy University and received a Bachelor's Degree in K-6 Elementary and Collaborative Education (Fall 2003). I received a Master's Degree in Elementary Education in the Summer of 2005, also from Troy University.
I interned at Goshen Elementary in third, fourth, and fifth grades. I also spent some time with the special education teacher and the reading coach. I was then offered a position as a Kindergarten aide for Mrs. Register at GES from January until May. I enjoyed this because I only interned with upper grades. In May Dr. Carter, at Pike County Elementary, offered me a Kindergarten position. I jumped at the chance. This is my 19th year at Pike County Elementary.

2 rolls of paper towels

2 boxes of Kleenex

2 -- 2 plastic pocket folders

1 box of classic large crayons

1 box of classic small crayons

2 boxes of Ziploc bags -- 1 quart and 1 gallon size

1 box classic washable markers

4 -- #2 regular size pencils

1 pair safety scissors -- child size

3 glue sticks

1 plastic school supply box (9inches)

1 book bag

**As students use supplies during the year, it may become necessary to purchase additional quantities of items from the list.
1. Be Kind -- share, help, clean up

2. Be Respectful -- raise your hand, wait your turn, be on time

3. Pay Attention -- follow directions, listen carefully, be still

4. Use Healthy Habits -- wash your hands, cover your mouth, use a tissue
Consequences

1st -- Verbal warning -- flip card to orange side

2nd -- Move card to yellow

3rd -- Move card to red -- no snack OR no recess

If behavior continues a note will be sent home.



Rewards -- Students can move card to Blue

*A prize

*Special jobs

*Stickers or pencils

*Reading to the class

*Computer time

*Good notes home
Educational Websites
www.abcmouse.com/redeem -- code -- school1208
www.youtube.com -- Jack Hartmann, Harry Kindergarten, Preschool Prep, National Geographic for Kids, Sesame Street, Peep and the Big Wide World
* We love to have visitors -- but remember to check in with the office before you come to our classroom.
* Please write your child's name on their snack in that we can insure your child gets exactly what they brought.
* Remember attendance at school is very important! We need you here everyday! If you are absent, remember to send an excuse.
*Please check your child's folder every day. This is the way we will communicate. If you send money to school please put it in an envelope with the child's name on it. Money often gets lost if they keep it in their pocket.
*We do many hands on activities so if your child does not come home with a worksheet everyday please do not be concerned.
First Grade is hard work but lots of fun too! You will learn something new everyday so it is very important to come to school!! It is also important to do your homework.
Study your sight words over the summer and learn new ones from the first and second grade list.
READ! READ! READ! READ!